"Every idea, every story begins in our mind and if we provide enough determination acts, our idea will materialize into reality."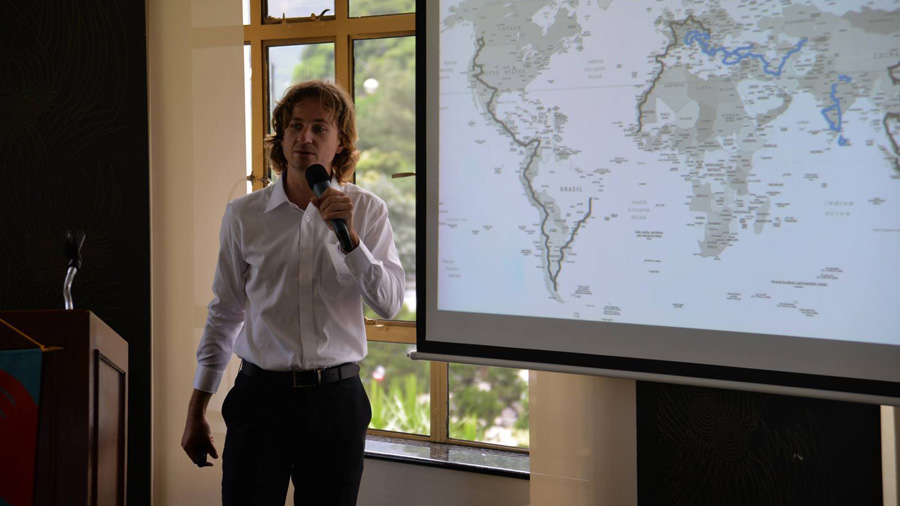 Invite me to speak
If you are interested in arranging a presentation or talk (to the company, club, association, institution, family reunion, high school, elderly center, etc.), please feel free to contact me. You can also view my current tour plan here.
I can offer interesting talk about various topics from my travels and life. Past 14 year I traveled more than 5 years with different modes of transportation. My favourite one is bicycle, but I am also into the hiking.
I traveled so far across more than 70 countries with or without a bicycle. The biggest cycling tour I did is World Bike Travel when I spent on the road 41 months. During my travels I was running own ecommerce business and online marketing agency.

Topics I can speak about
My favourite topic to speak about a journey of a lifetime. Once idea of travel the world came to my mind. In 2013 I set off for a a trip to cycle around the world that open up my eyes and changed my life forever.  I can tell you about my story how I was exploring world  for 41 months from 2013 – 2016 and cycled 74 000 km.
Sound simple, but in reality was thought adventure. So many different roads, steep uphills, many situations I was not expecting, biting winds and inclement weather I had to fight with. It was a mental and physical challenge (getting throught my own limits).  During the adventure I was meeting people and cultures all over the world, kind strangers (that helped me many time on the road and not even know my name) and real face of the world.
Journey of My Life – Around the World By Bike 2013 – 2016
Other topics
From Beijing to Bali
From Europe to Tashkent
Australia and New Zealand
Cycling in South America
How to Prepare and Make Plan for Bicycle Touring
How to Make a Money Online While Traveling
How to Run a Company or Online Business While Traveling
Short video from journey
Get in Touch
Testimonials
"Karol had amazing speech about his travel experiences. Its interesting to hear how it is going on in other countries, while we are sitting on our warm chairs. Travelling by bicycle is a big challenge and he deserves big respect. Great presentation, great adventure."
"Karol is the most adventurous and full speed minded person I know. Who else is able to travel the world by bike and grow his company? The journey around the world is for many people just a dream, but he is showing to people when there is will that there is wonderful journey and everything is possible. You are the great inspiration for us all and have to say big thanks."
"It´s been an extraordinary experience to see Karol´s presentation of his 1st year bike trip around the world. It gave me a proof that people are able to reach for the stars if they really want to. For me, Karol is a clear example of a man, who knows what he wants, goes for it and except for obstacles and problems, that appear always in a new place, country or continent, he never gives up and keeps on looking for solutions. Karol, thank you for inspiring all of us!"
Talk's done
Bratislava 21.9.2014
Hong Kong 27.6.2014
Adelaide 2.4.2014 – Adelaide Oval
Sydney 25.2.2014