I am traveling bit longer and I had chance to cycle many great routes. Here in this article you can find ten from my favourite places that I can recommend to go by bike. I hope can hae a great time when you cycle these trails.
Passau – Chiemsee
144km – http://goo.gl/Q5a0O
After I left Passau I was heading towards Chiemsee Lake. Get out of the town early morning. After cycling across small hills I joined the road near river Inn. I was first day alone on the trip. Road led my across fields and villages in Austrian countryside.
Everything around is blowing and green. Nice spring is welcoming many other cyclists! You can find nice roads on this route. I don't like this flats with strange up and downs, but still this was another kind. Arrived to the lake with a great scenic view. I really enjoyed whole day and ended up in camping site near.
Bad Toelz – Eschelohe
88.98 km – http://goo.gl/r07gR
Morning I woke up in garage in Bavaria. Morning was fresh and I had to move. Public toilets nowhere and had to use local natural options. Old town city was nice and I've dried my cycling clothing on chair till the morning sun shine. Ordered one tea cause it was very expensive place to be.
They let me charge mobile and notebook. Clouds came and I started cycling rather then wait for a rain. After few kilometres started huge rain like I was expecting. Few minutes before I did my first 1000km on this trip. This is my first big milestone on this trip!
Temperatures were down. I was heating my body with cycling in the uphill near river Isar. Very nice cycling route, but in my case it was a big badluck that I cannot enjoy the ride due to rain. As I was cycling some parts of trail I was just surrounded by nature. After downhill from Walgau to Eschelohe via Garmish Partenkirchen found a place of my host. Last part was just cycling with hope  for a dry and warm place in the end.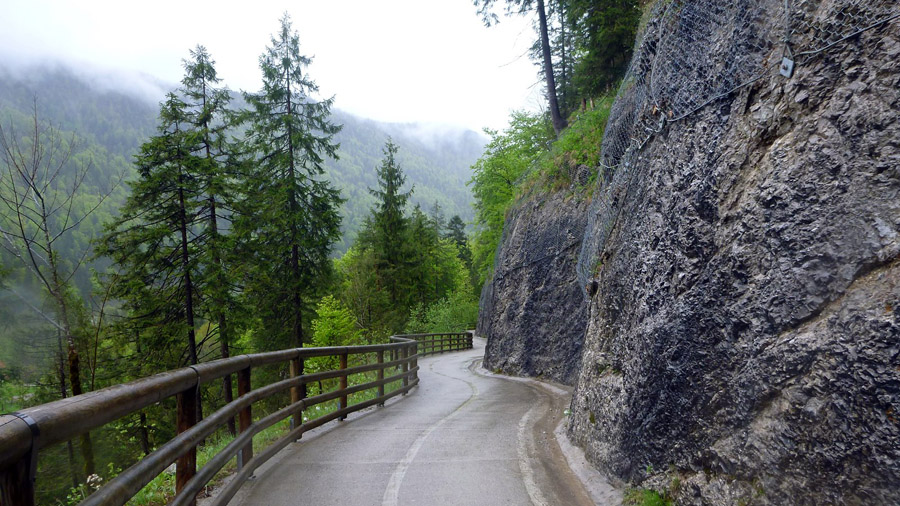 Rain was over, sun went up and I find rest in the hut on the property of the guy that left me a key. Small hut in the garden of my host's company with a bed and beer. Place was suitable for help to any cyclist and it was kind of special.  Night was cold, but in the morning I met with my great host and we had a breakfast in his workspace. During the day I had the most expensive luch of the trip. One tea and piece of cake for 6 €. It's unreal here.
Eschelohe – Warth
115 km – http://goo.gl/r07gR
In morning I am drying my wet cycling clothes from yesterdays ride. Starting again the hilly stage and pedaling to Warth. Went thru very nice valley and around Plansee lake. Cannot enjoy again. I was completely wet again after few hour in hard rain. Nice part of stage is cycling few kilometres on private road with some nice views. I was not paying. Very nice cycling route is Reutte to Warht where cycling road is going up and down, thru the fields, forest and its very interesting!
That time the peaks of the mountains were covered with a snow and hidden little bit in the fog. Reached Warth after steep uphill and some curves. In 1600 m over the sea searching for a place to put a tent, but the rainy terrible looking clouds changed my plan. I've tried to find a hotel. Everything was closed dut ot no season. One hut was open and I took it. Bit expensive, but better then be sick.
Riva del Garda – Fazzo di Fassa
136.7 km – http://goo.gl/XA2pr
From Riva del Garda nearly on the sea level I cycled with my heavy loaded bike to Fazzo di Fassa. On the way to reaching the goal were three very nice uphills together with more than 2000 m uphill. Sunny and hot weather from start was a nice motivation.
Great scenic views and first downhill today with maximum 70 km/h in the tunnel. I felt really like one mistake and I am done. I am not going to make it again. From Trento starts again uphill and stip curves to the hilly area with wine tradition. Feel little bit tired, but have to continue. Dark clouds were coming. Catched by them before Val di Fassa.
It's nice valley in the mountains with interesting cycling road. Huge rain starts and temperatures move down unde 6 degrees. After nine hours of cycling arrived to the place of my host Marko from Fazzo di Fassa village in Dolomites. He saved my day. As I am looking out of window I see heavy snowfall. Enjoyed talks with Marko and his great salad and also tasty fresh bread (as he is baker).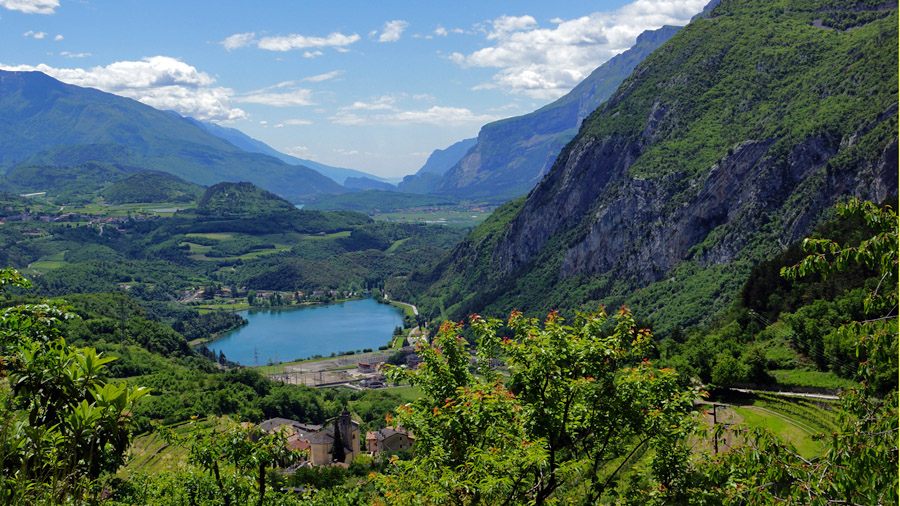 Bihac – Biograd na More
185.51 km – http://goo.gl/KRC6xf
Cold morning and strong fog all over the countryside. Started cycling to the Croatian border with a broken spoke in back wheel. Cycled thru nice valley with canyon of river Tara. In the Bihac I cannot find in the city same size rim. Steep uphill on the road without the cars. Sleeping guys and the dog  in the border office. Nothing going on there. Up and downs, nature and nearly no people in the countryside. Wonderful no road without people.
From green plains cycled to the almost desert country near Zadar. Sun was burning my skin. Headwind was strong and cycling was very hard. I felt tired. Road was without a cars and downhill with a nice views. Last kilometers to the Zadar with temperature over 40 Celsias were hardest part of the day. Traffic was horrible.
In Zadar I  found bike store where they were able to change whole rim. I was cycling along the coast on the main coastal road. Find a beach behind camp and sty there for a night. Alone under the stars near the sea on the rocky beach in the sleeping bag. Small miracles happening everyday in our life.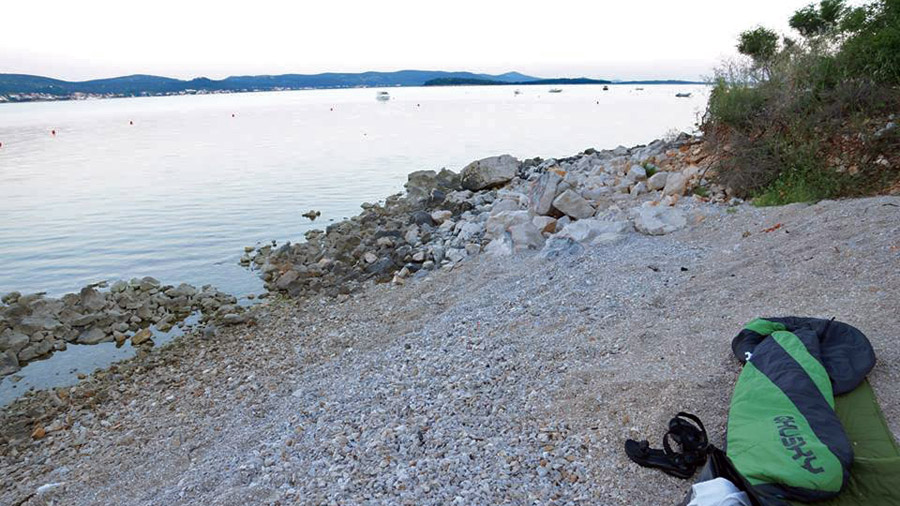 Bolu – Ilgaz
192.8 km – http://goo.gl/a5kgbO
The stage on the big day started with long uphill. Then up and downs thru small passes. Wind was all the time changing but stunning views of the countryside were kicking me and Helmut forward. We were cycling on the main road with great shoulder and not bad traffic. Along the road there is many option to enjoy great Turkish food.
We were full of power and this stage was very fast. We finished in small city in the mountains where we found a hotel to take a rest after long distance ride. My body was really tired after more than 8 hours in the saddle. I like this feeling after whole day of hard work.
Ikizdere – Ispir
70.2 km – http://goo.gl/vMpMuX
Uphill from the Ikizdere to the pass 2640 m over the sea was hard. We started  but we did this small morning exercise in such a good mood with Helmut. In the middle of the uphill we took a rest in small "cay" (tea) place.  I was bit out of energy there and really need this rest. Valley from start to the first curve was awesome. In curves we were meeting the clouds passing the road. In downhill I destroyed my cycling shoes. It was a big hit, but new ones I ordered in Erzurum. On this road everyone will meet himself in clearest way and nothing can't be hidden.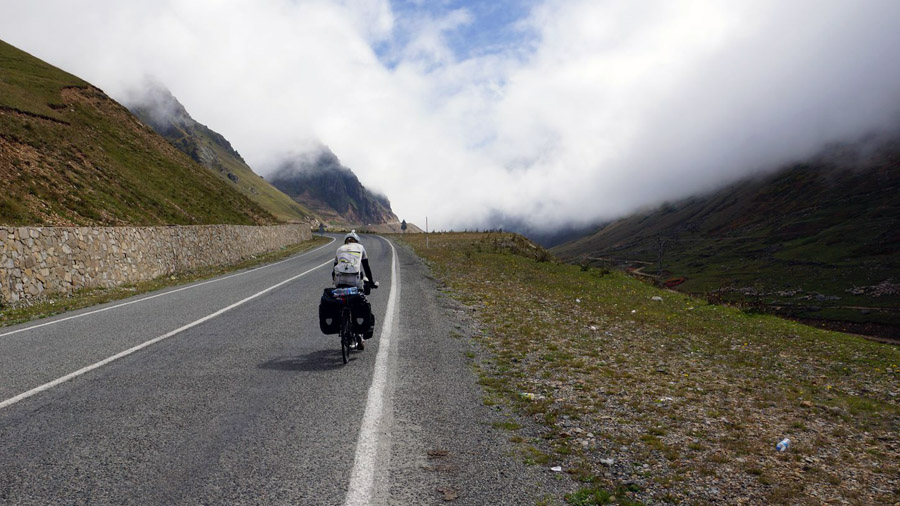 Agri – Bazargan
136.74 km – http://goo.gl/o8hDVr
Route is going under mountain of Ararat with nice sceneries around. Up and downs on the big road with good traffic for cycling. Very nice views and food stop in Dogubeyzit with option to visit Ishak Pasha palace. On the border of Iran and Turkey is meteorit crater.  You can see that you are close if you see long line of truck drivers waiting on the road.
Sanadaj – Hamadan
148 km – http://goo.gl/uu7Uaz
Very nice route from Sanadaj is long uphill and then big flat with small up and downs. Countryside is little bit boring after 60 km. You should enjoy cycling on big road with not a big traffic. With strong wind like hell we had sand storms and have nice cycling on "not moving" flat parts. Hamadan is a big jungle of the cars. Take care about your life.
Toshkent –  Guliston
133.4 km – http://goo.gl/IXMJwg 
When I was leaving Tahskent city from the other side Garmin brings me to this road to Guliston. First 40 km was hard survival on the road with a pretty big traffic. But then … I turned on the nearly destroyed road and then joined big road without a cars. I car per 20 minutes is like a paradise. Wind blow from the side and I was watching the sun slowly going down. Just cycling and feeling of the freedom. Passing fields and enjoying moment. Last 15 km I joined the main road from Tashkent and traffic starts again.
So this was few of mine favourite routes from Bratislava to Tashkent stage. What are yours? You can leave the comment here.