I woke up early in the morning in the bed (noisy street can't let you sleep) of my "hotel" in Nepal – country which I am actually exploring with my bicycle in past few weeks. My body is bit broken (feel legs and muscles). In the room is over 30 ⁰C and I  sweat like in hell (still morning). 
I don't even know the name of the town I've ended up yesterday. I was looking for some shelter in the dark night and locals helped me to find the place. It got walls, dark room, dirty bed (I think still cleaner than me and I am not talking about my shoes and socks) and old shower where you can refresh yourself in the morning.  I really like cold shower in such hot countries like Nepal.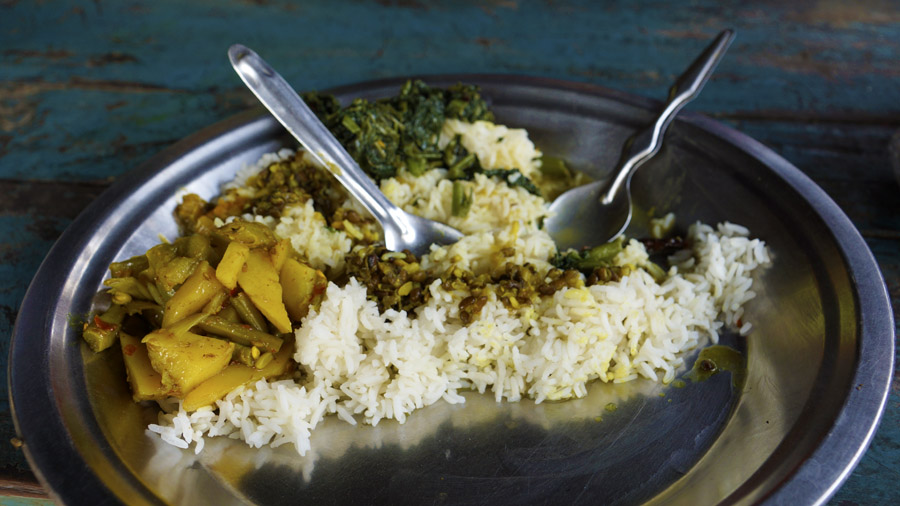 I am not rushing and going to have a Nepalese Dhal Bhat for breakfast served by the kind woman in the hotel's restaturant – rice and veggie curry and sometimes I do eggs. I like it and try to always eat what local people do. I was staying few days with locals and they had the same dinner and breakfast everyday with little change in veggies. During the breakfast I have some time to upload routes from past days to my Endomondo profile and check emails. Yesterday I was too tired to do anything. I try to upload online all my routes where I was cycling during World Bike Travel. You can find them in section Hall of Fame.
Some people asked me if I am camping here in Nepal. Camping is not option anymore in these very warm and cheap countries. It's more like survival or to have something. In bicycle touring business is really easy end in the evening in the middle of nowhere. Camping in Nepal is more like sauna. In more secure countries I rather sleep outside without a tent, but not here with jungle all around. Let's go back to the story.
I put all luggage (6 bags) on the racks, check tires and sit on the saddle of my bike and start getting around the place. My first goal of the day  is to get new earphones to have a music during the ride. Last ones broke cos I was sweating too much. I founded a store with some electronics and buying the stuff. The guy is selling me "original Samsung S4" earphones. What a trick, but they really play better, but probably because of the price is like double compared to my previous ones. Cool, now another day of adventure can start.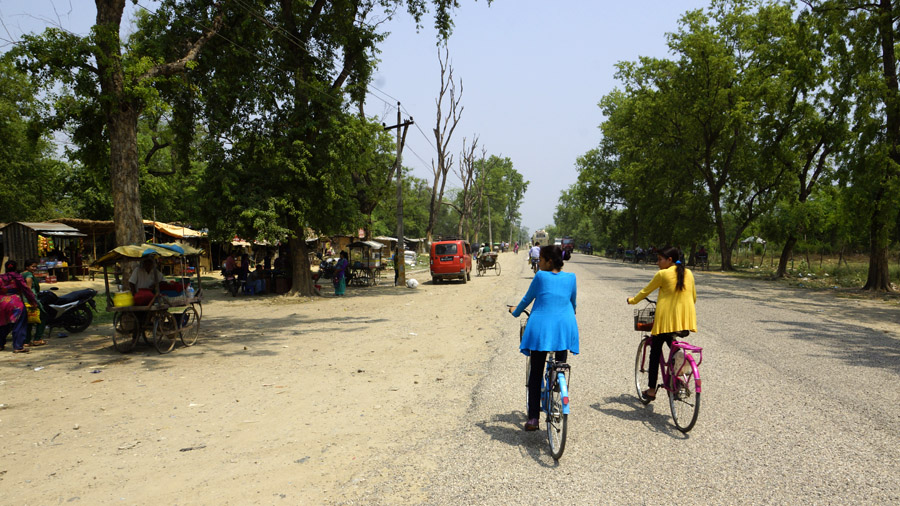 Temperature meanwhile on Garmin jumped to 37 ⁰C and some people are dressed like in the winter. I bought few bottles of water in a local market. I am mixing one with my mineral tablets to get better hydrated. The town is dirty and everything is in the rush. I am following the road out of this madness. New unexplored territory of the world is waiting and I hope I have a chance to meet locals life in small villages far from touristy areas. Road has a lot of potholes.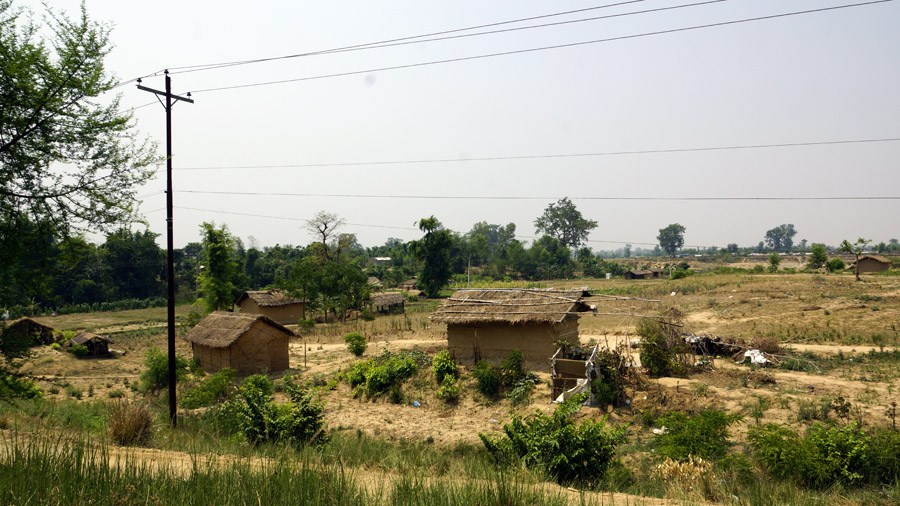 I like traveling in Nepal, but it is not the best destination for cycling. Many people are riding their vehicles or motorbikes like crazy. I saw few accidents during my travels here and the worst one was school bus down in the valley on the tree. Sad, but it happens many times in these undeveloped countries. People are mostly nice. Many of them is smiling and sometimes saying "namaste" that is used as respectful of greeting. It is not very dangerous country, but you can still find some really poor and dumb people that do small robberies. Just be careful.
After I left town the road joined the the river. Few kilometres and serious climb starting with 4% grade. Passing army checkpoint and waving with a hand. After one kilometre the river runned out of water. My head is getting calm and more inside to follow my heart beat, working muscles and thoughts. Sometimes I am interrupted by passing car or truck. In few places the grade of climb is up to 10% and I am going really slowly. Getting really hot and stopping for a while in a small shade to drink. I sit back on the saddle and continue with climbing up.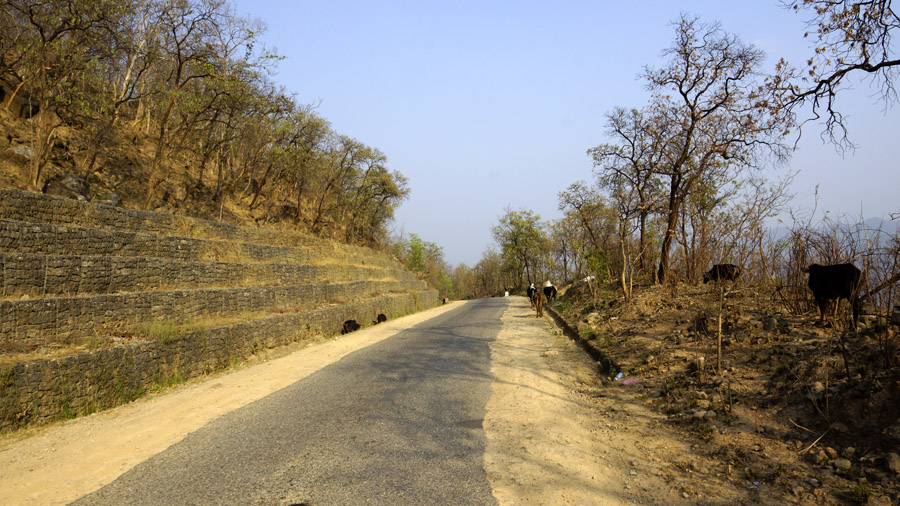 On the curve I see man carrying heavy bag. He looks like poor hard working man with lot of pain written in his face. I have sometimes this thought that I would like to know the tale of some people. Just out of curiosity or to know how to help them. In fact I can not solve their life problems or situation. I stopped him, took a picture of him and give him few hundreds of Nepali Ruppies to make his day bit better. He's counting the money and look really surprised that he get something from dirty beggar on the bike.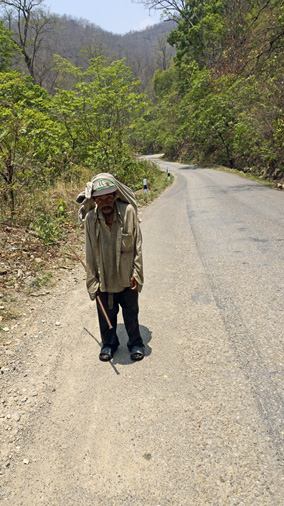 I continue with my own challenge to get over the mountain pass. I am sweating and my heartbeat is reaching the top of my limits. Temperature is 49.2 ⁰C and no place to hide. I love cycling and climbing up. It is challenge with my own body and mind. While touring around the world it can brings a lot of pain, but also lot of small joys. Finally there is small shade and water that brings me this feeling of well being.
Nepal got a lot of nice sceneries and nature spots, but they are often hidden in the smog and dust like now. It happens usually in the end of dry season. I am hitting the road here for more than five weeks from half of May. I was lucky that rainy season this years is a bit late. While I am traveling here I used to grab a trash or bottles from the side of the road (in more beautiful areas) to bring it to the bin (really difficult to find) like today.
Nepalese people are mostly not well educated, don't understand ecology much and it slowly killing their country. They don't understand that there is correlation between clean country and wealth. Everything starting with people's responsibility and how they care about a place they live. With new modern things coming and growing economy that you can find there a lot of cars, traffic jams on the same old roads they've used before and lot of trash next to the road. Only sanctuaries for clean nature (not always) here are national parks around Himalaya's and I really like it during our hike to Annapurna Base Camp.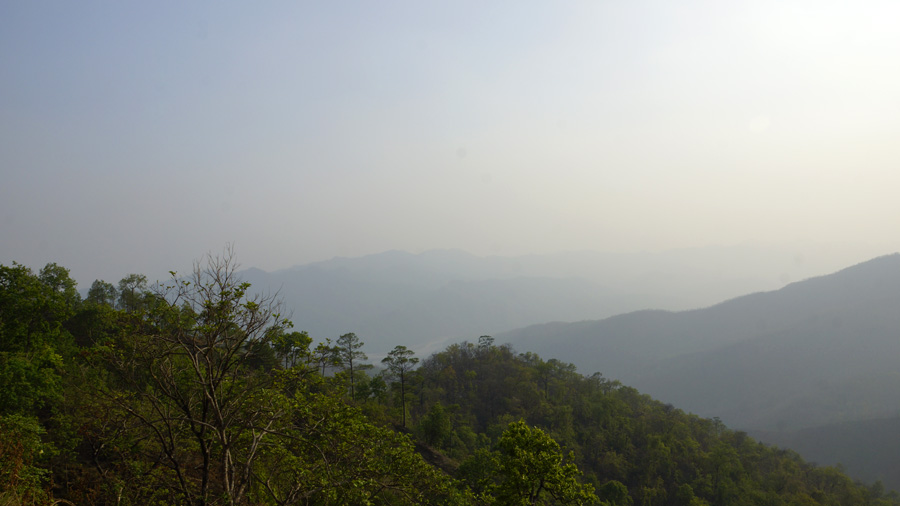 After 20 km in the climb I cut finish line on the top of mountains pass with view on country in the dust. My legs are happy. After short rest the downhill starts (lot of potholes and dirt parts). It lead me to the river supposed to be a part of natural reserve with elephants and other wildlife. There's a water in the river and small wooden hut. I am really hungry and also tired, that means I will sit here for a while the strongest sun is burning the country and my skin. I am putting layers to cover my arms .
I need something cold now and looking if they got a fridge here. There is group of people staring at me and one man is speaking very simple English. I am asking him if they have what I am looking for and they got it! I drink few small bottles (not very cold, still better than nothing) and just fall asleep on the table in the shade. Temperature jumped over 48 ⁰C!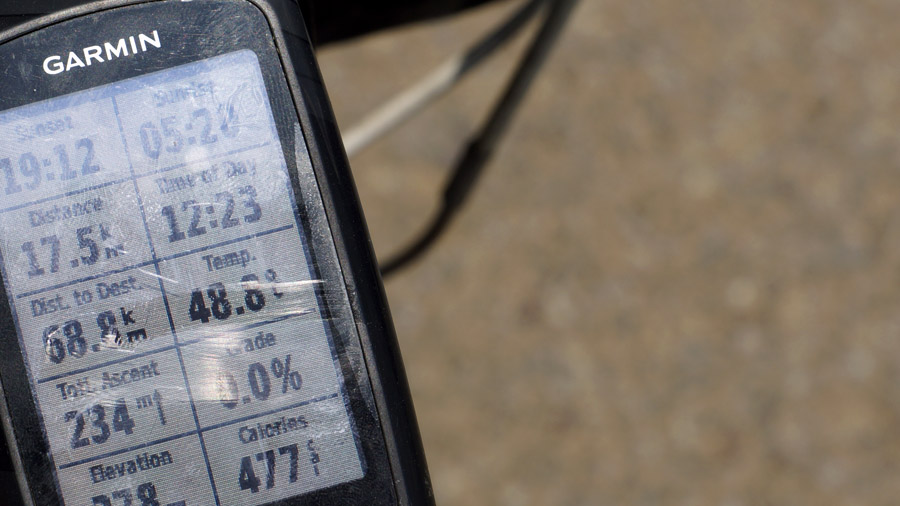 Guy is talking with me and I am also trying to be polite. After common question he is trying to sell me also some food. I ordered Dhal Bhat originally made on the fire in traditional way. Topic of conversation get to my bottles on the top of the bags. It was very funny as always and I tried to explain that I want get some trash of of their natural reserve. Laughing again and after he compared bottle to banana I've changed a topic and put focus to enjoy my fresh food and rice on the table. It is really difficult to eat in such heat.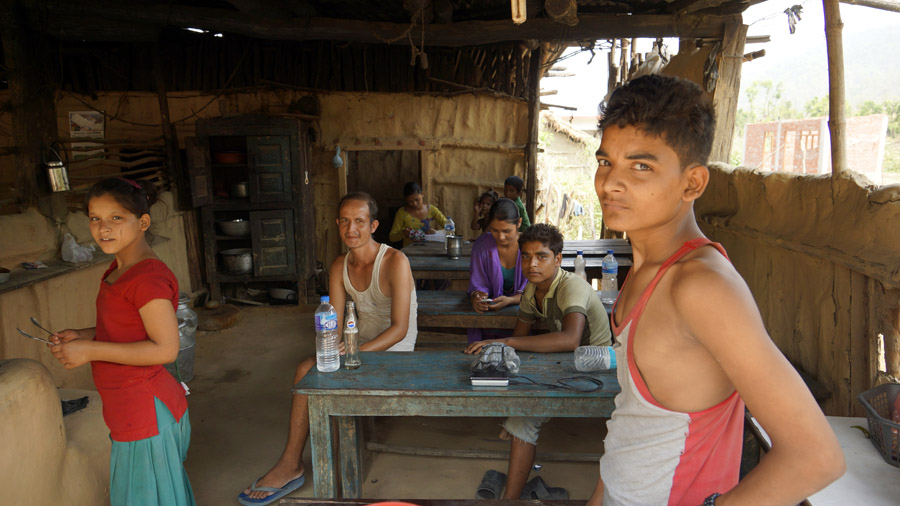 Finished my food and start telling myself that I have to sit on the saddle again. After while I was again in the cycling and climbing business. Say hello to people in "restaurant" and move on to the top again. The climbs in Nepal are long, but usually not very steep. Another one starting after the bridge. I am taking a picture of valley and children playing in the river.
After almost 3 hours in the saddle, my body is tired. Second part of the ride is always more thought, because is usually in afternoon during the biggest heat and this is the case! The road is more busy and crazy buses, trucks and motorbikes running so close around me. Today almost ten times I have to jump out of the road to save my life. This usually happens when people don't how to use things in proper way and not think about others on the road. I am just lucky I am still alive.
Continue in the second climb and standing few times in the small shade. 1000 m of climbing and still not in the top. I felt like ten times I am there. I run out of water and hitchhiking cars to ask about some water. Ambulance stops and they gave me few from their bottles. Top of the climb was closer and I have to finished just 200 m. On the top is another small hut where I bought new water and cold drink.
After short rest back in cycling and I am enjoying quick downhill to the valley. During the downhill I was blocked by tractor that reminds me accident I had Iran. Back in 700 m altitude in few minutes and country here is way more "green" (truly refreshing). More palms and trees. The temperature is finally under 40 ⁰C and I feel way better.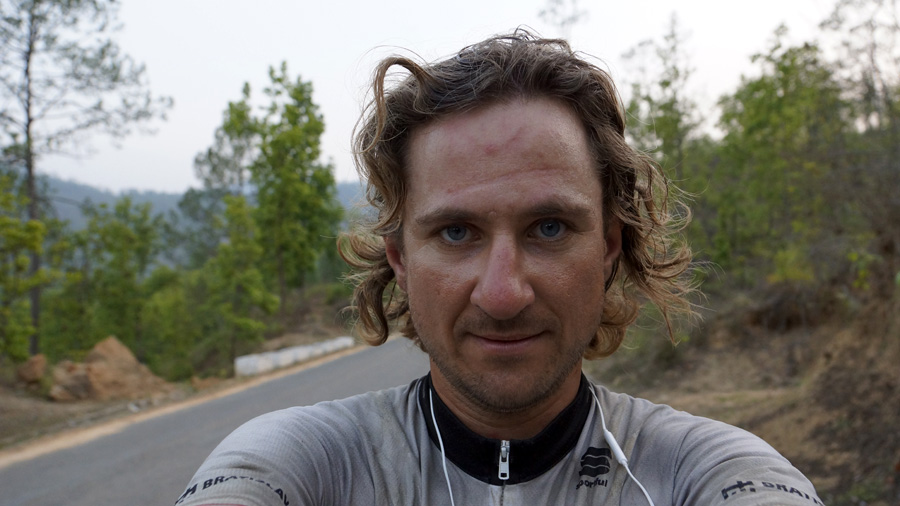 Cycling in the valley on the small road near the river that is full of water. Passing the bridge and another moderate climb started that is last one on todays list. I feel really tired and pushing with last energy. On cycling computer jump new number. 23 000 km that includes a lot of days I cycled, people I meet, adventures I experience and energy I have to push in to get here. Got great feeling.
Much more motivated I continue to the top of last climb while is getting more dark. Many people is coming back to the town and lot of trucks and cars are passing me. Paved road is turning into the dirt road. I come to town after sunset and I found "hotel". I am too tired to do research around and I am taking the place. There is a shower in the room, but it is not working. They fixed it quicly and I put down dirty cycling clothes and clean myself in cold shower (another small miracle).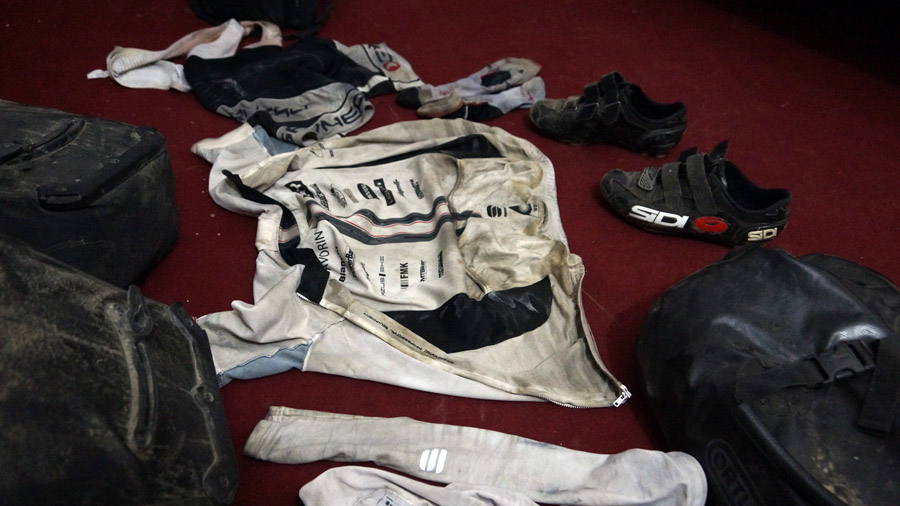 I was really hungry again so I start asking on the reception about some place to eat. Guy say that he can take me somewhere to eat and jump on his motorbike and I sit in his back seat.  We are roaming the streets of town in the dark for a few minutes on dirt road to get to the restaurant. We ordered a food and get back to the hotel where we enjoyed the dinner at the plastic table in front of the hotel. Another great day during World Bike Travel. After 6 days riding I have a plan to stay here one more night to have a rest day for my body. Why I did not take a photo with a guy from the hotel? Sometimes I am too tired and hungry to do anything and its  usually part of another day story in the morning.