I am sitting at the internet cafe in Thessaloniki. I usually spent some time in places like this to do a new diary post for website and a lot of other internet things. I have some online business and also need to check the emails too. In next few days I will take a rest. I am bit sick from cold and rainy days in Alps. How my cycling was going from Austria to  Greece you can read in this blog post.

Croatia
Past weeks we did nice cycling rides on few of Croatia's best islands. We did a small experiment and we tried for us new way of trasportation. We were going by boat from island to island and we cycled there with company offering a commercial tours like this – Geotour. Just sleeping on the boat, cycling in nice places all over. Breakfast, cycling across different roads in islands, lunch and afternoon on the boat jumping of the boat to open sea. Cycling on islands is more safe, because there is not huge traffic (in Croatia drivers are bit crazy).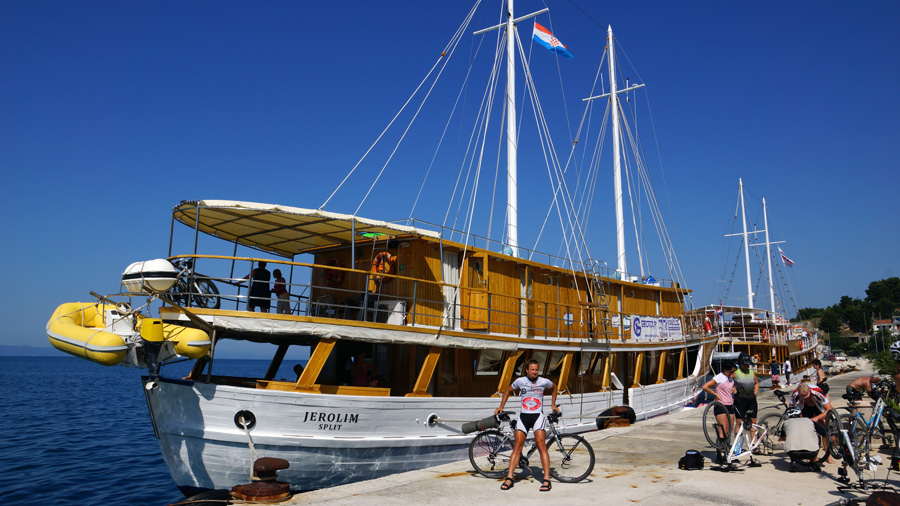 On islands you can see there a lot of interesting places like caves or nice mountains. Nice sunsets on the boat and many great rides all across the islands with nice historical cities. We have to say big thanks to Geotour that they took us around. On the boat we got great crew and best experience for me was swimming into water cave in sea (top experience and you'll have to try it).
Best town for me there was an island Korcula with a great old town and some nice bays.  We really ienjoy night in the town with great atmosphere. After the bike boat trip we put our luggage back on the bikes and hit the road again on mainland. We passed through croatian coast with a lot of traffic, but it wasn't as bad as in Makarska riviera and Zadar area. It was almost the first cycling experience for Heni even she have to do some some "neverending climbs" in big heat. This sun here it was real pain in ass.
Very nice place was a city Dubrovnik with its great old town. Not very good in main season, but you can still enjoy. We took a walk around the town and enjoy the place for a while. Then the time had come and we moved slowly by bikes to Montenegro. One nice guy from Austria gave us a tube when Heni got a flat tire in the climb from Dubrovnik.
You can find also some good resorts all along the coast. We stayed in few nice places with beautiful beaches and once we slept on the beach because we cannot find a place. We also tried for a while cycling also in dry inland. It was very difficult to cycle there in June with heat over 45 degreess of Celsia and it is better to plan to go here in spring time.
Montenegro
We took a coastal road to get there. It is nice piece of land and unbound country when you go not on the main roads. It was kind of crazy country and we some nice people. There is many natural places to visit like mountain ranges and cayons. We were at Tivat area, Tara Canyon, Durmitor, Boka Kotorska, National Park Lovcen and couple of nice cities. We had nice hiking rest in Durmitor, but there was still the snow and we cannot climb up to the top of the range. In the heart of the mountains you can feel the beauty and power of nature at all.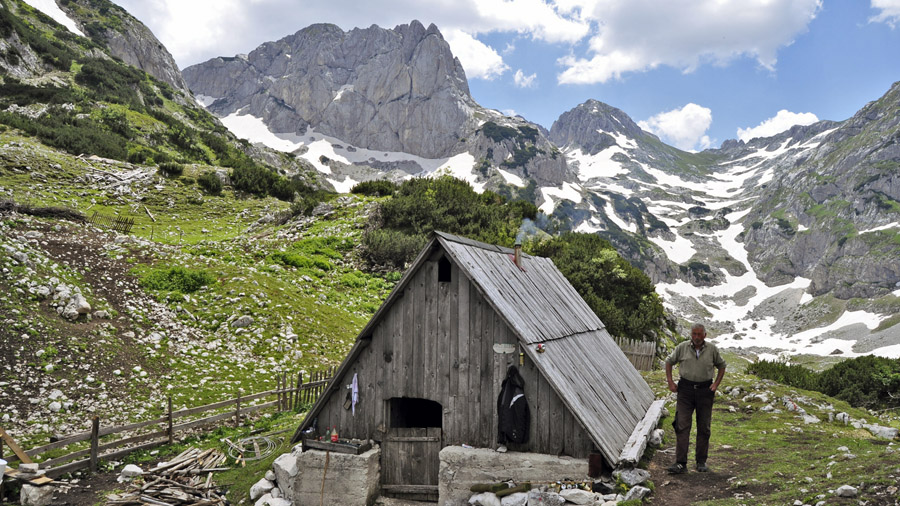 The worst surprise for us was Podgorica. We got nothing to do there. I the most great experience was passage thru Tara Canyon with green waters in the river there. We met some nice people which let us stay at their place on the road and we can feel the taste of a real life in here a bit.
For Heni as a beginner it was little bit hard, but she stand it with just a small problems in neverending climb to Boka Kotorska. I was very proud of her. Her first almost 1000 km in traveling by bike business. We ended up in the hut in our sleeping bags. It was a pleasant nights with lot of moskitos.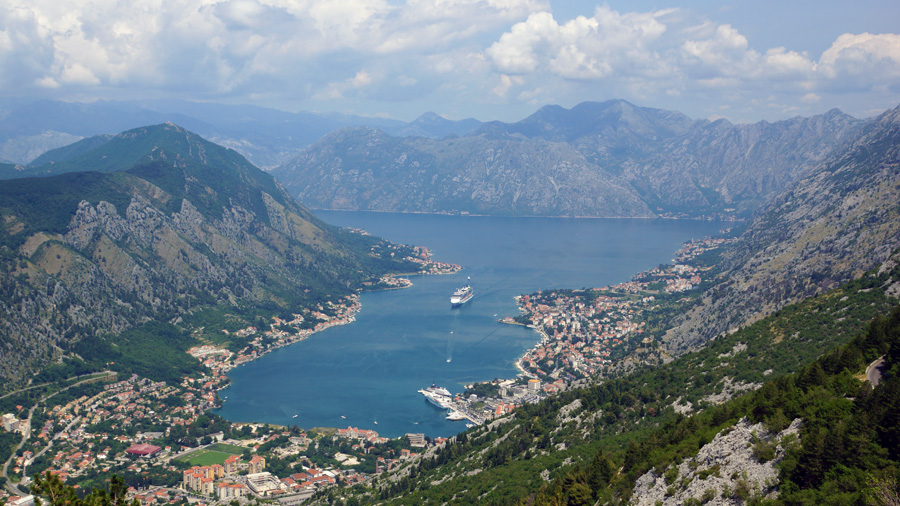 After month Heni was quite done with cycling and get back home by train. From Mojkovač I was again alone and I moved across Biogradska Gora to Podgorica to change my chain. I was looking for Shimano, but with no succes. It is still Europe, but I have to solve such a simple thing like this. I had to take another brand. It´s not working as good as the previous one, but it is quite OK. In Turkey hope I should get new wheels, because this one is out since I hit pothole on the road in downhill in Alps.
Bit scary and hilly Albania
Albania and Macedonia are countries with many differencies. Cycling in Albania was hard. Really bad roads, full of cars and I didn´t feel safe there. Lot of strange guy were looking on me when I stop.  There are usually way better people and roads without a cars. To overprice everything  is here common tactic to rip off the "tourist". I think I don't even met a person to speak with becasuse noone know English well.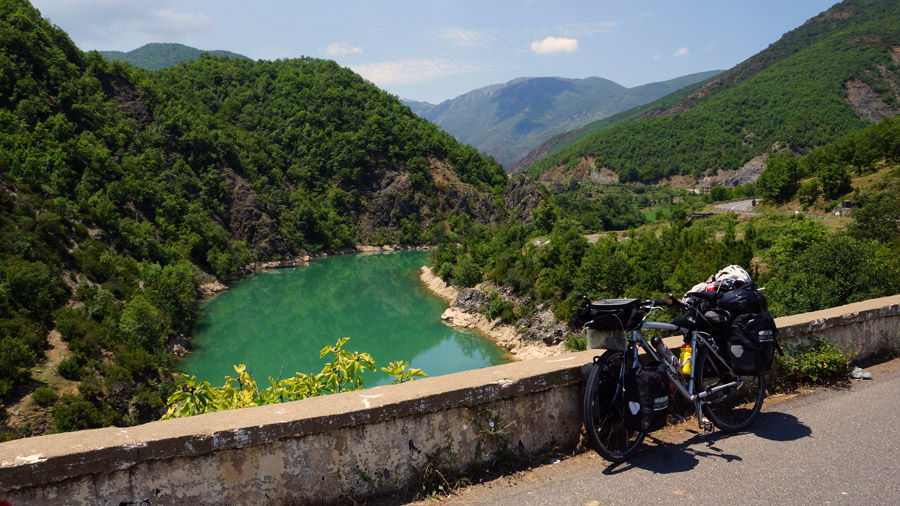 Due to storms I had to took som hotels in the mountains. It was not expensive, but if possible camping in wilderness is better. The food was more like random, but there is many people who sell fruits next to the road. The best rides I had in mountains where not many people live, but the climbs were quite difficult. I was really enjoying cycling here in mountains. One day I was going in the canyon with a lake and another spectatular ride was on way to Lake Ohrid.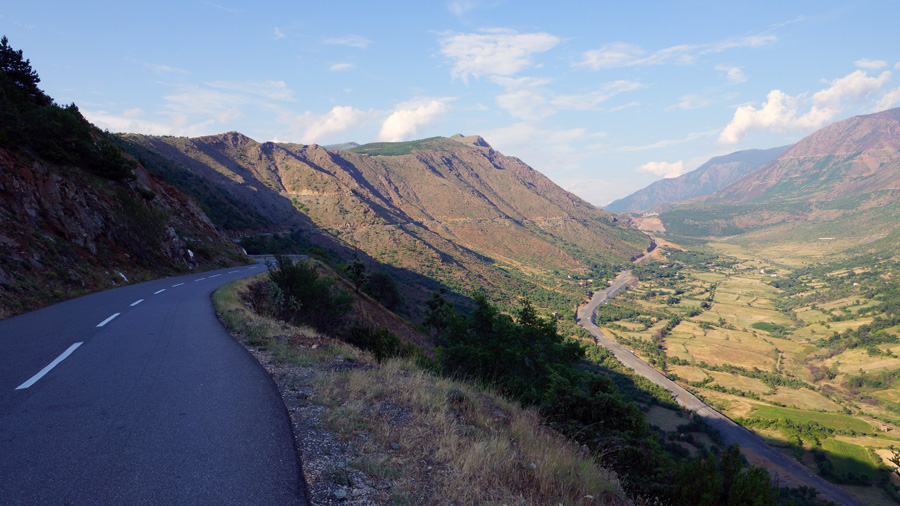 Great people of Macedonia
Macedonia is complete another kind of country. Very nice places, good people and not such a lot of traffic (maybe in bigger cities you have to be careful about your bike). Bad roads still, but who cares. People were always asking and trying to help me. It was nice place for cycle and travel. I took a highway cycling to Skopje where I rested for two days.  This highway looks like a very old normal road, but it had a toll when I was entering. I didn't pay, it was not worth to waste a money.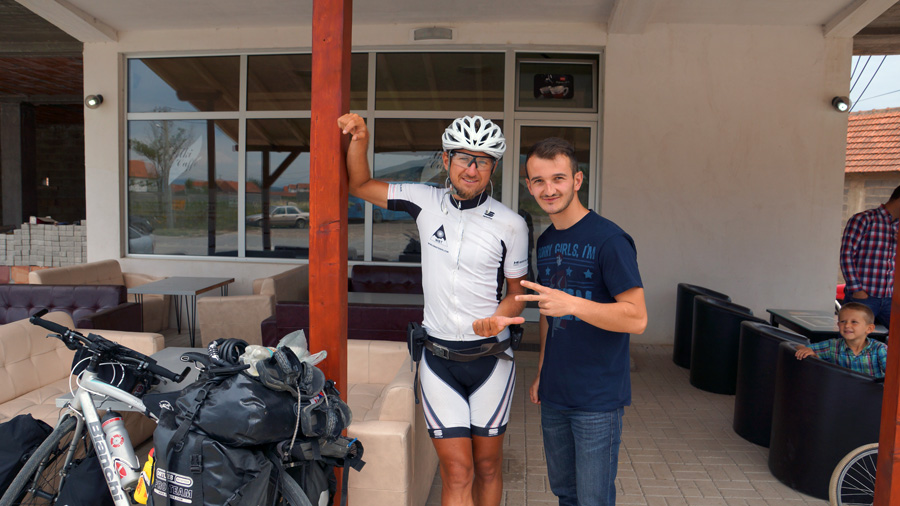 My body was little bit tired after a week of hard cycling and I really need my body just turn off for a while. I got a great host Ivana adn stayed there for few days. She took me for short hike to the hill over the town. We got a nice time also in town and see some crazy statues all around. What a bullshit at all, but it really works the host of mine said and it is bringing more tourist to the town. Skopje is city is mixture of three religions and it is quite interesting.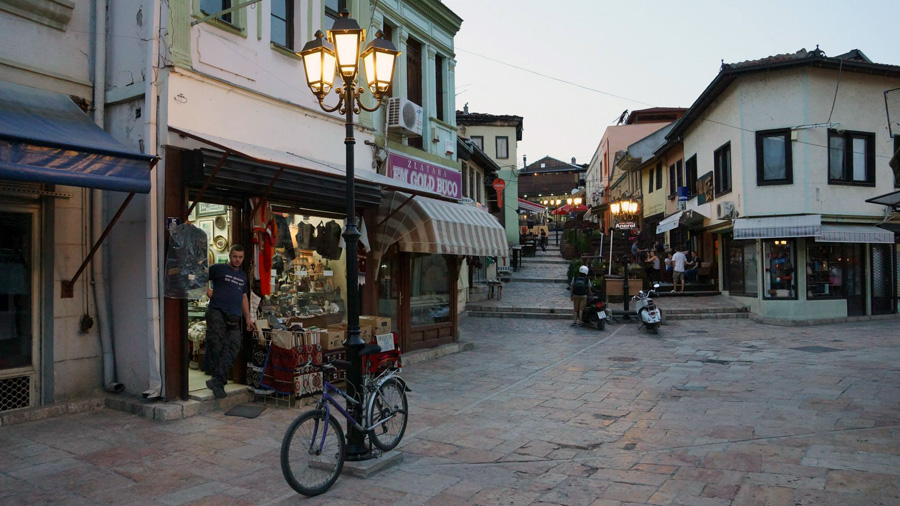 From Macedonia I moved by bike to Greece. In few days across mountains on the borders. The roads were busy and it was so hot. It took me two days to get there and it was hard excercise. I was meeting Heni in Thessaloniki. Here is her photography blog. We get around the Pelios peninsula by hitchhike and bus. One night we slept on the beach and we did hiking in Olympus National Park. This trip is not only about cycling and Greece offer many special places to visit and it's my favourite destination to go.