Few days ago is started (it is the most important part). The expedition around the world by bike that I was planning and getting ready for three years. Plan of World Bike Travel project is to try to cycle at least 60 countries and 80 000 km, but this is not important part. The project has been started at parking place near Donau River under the Devin Castle near Bratislava (town I was born).

Few people came to made my first day on this trip  – some friends, family and Heni. Not a big party, but check it out here in few photos! This is last contact with what I know and was living until now. Life paradigm during traveling around the world is about to change. It will be hard, but it is a part of the game when you'll decide to travel the world for few years.
I hope I am ready for such a trip, but it is only my opinion. Kind of you'll never know what is coming and cannot plan such a period ahead. You cannot prepare yourself for everything that is coming. Only persons I will meet on the road will be Heni and some random people on the road. Or some that they want to join me for a while or longer to cycle or travel with me.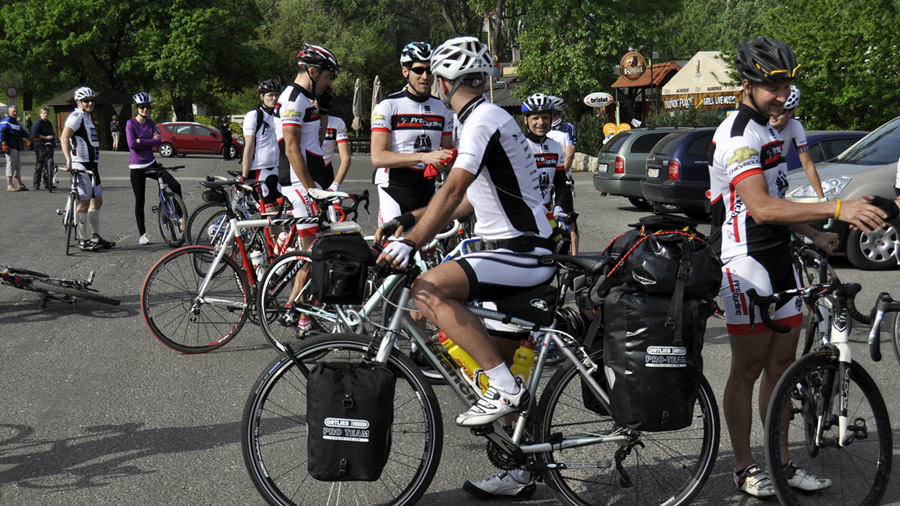 I was lucky to start trip with few partners that give me bicycle and equipment for touring all around the world. I can keep for more cash in pocket for my trip. You can find them in section with partners. It's my pleasure to test Bianchi bicycle on the tour equiped with waterproof bags Ortlieb. Good is to have great cycling wear and one of the best brand I know is cycling wear Sportful that supported project too.
On the other hand real partner for expedition I cannot find. I I'll have to count only on my savings and cash I put on the table for this trip. That's important to have for everyone who is thinking about long term traveling project. You have to not think only about your daily budget, but also about enxpected spendings and related with visas,  insurance, banks fee's and more. That mean you'll need a reserve if something happen on the road.
The start of touring around the world
When this project started? Some people may think today. That's not a correct answer. I've been planning traveling like this few years. The first came to my mind idea of traveling the world. From start, it was just undefined shape and idea never can grow when we not start taking a risk and working on it. In life there is always a point that you'll have to choose what is more important for you.
We are making the thousands of decision everyday and in 2010 I decided to go on world trip. Sound simple, but you need to make a right environment for such a project. It was my final step to bring my life on another level and get one step closer to reality in the world. The most important part was stepping out of what I know to find what is out there in unexplored territory.  Then 3 years of hard work began with deadline to get on the road in on 1st of May 2013.  More about project World Bike Travel here.
First few days I feel bit strange while I was riding the bike. I was new to ride monster like this. really heavy bicycle. After few days I was in and felt really comfortable. Capo and Jaro join me and we went bike thru Hungary, Austria, Czech Republic to Passau in Germany.
This small trip for guys was a start of a big journey for myself. We were riding across well known countries that means not many surprises. It was more like joy from traveling during spring time. Trees next to the road are blooming and everything is green. I love to cycle in countryside.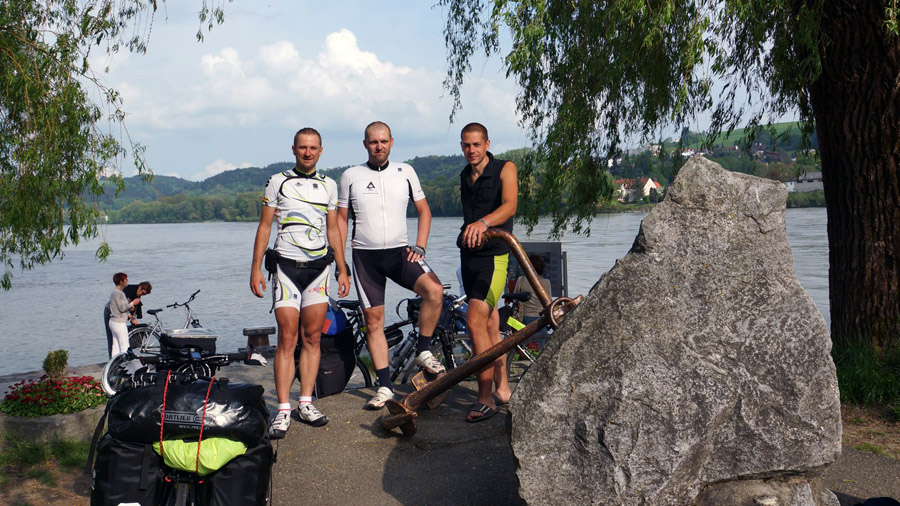 We had a fun while we were traveling by bike and lot of great cycling experiences in scenic roads of Southern Czech – region of the lakes, Hungary and Austria. We had few rainy days from start in Hungary and Austria, but then weather get better. Jaro was bit of immortal kind of man sleeping just outside without a sleeping bag. If I go like this, after few months I am out.
We had host for one night during our part of trip in Austria. Czech traveler Martin Stiller hosted us for one night.  For me the most nicest part of this was crossing the Sumava. I love cycling in mountains and nature. Czech Republic offers many countryside roads in nature and you can really enjoy traveling by bike like this. Few photos from this is published in photo album from short adventure in middle Europe. I hope guys enjoyed trip.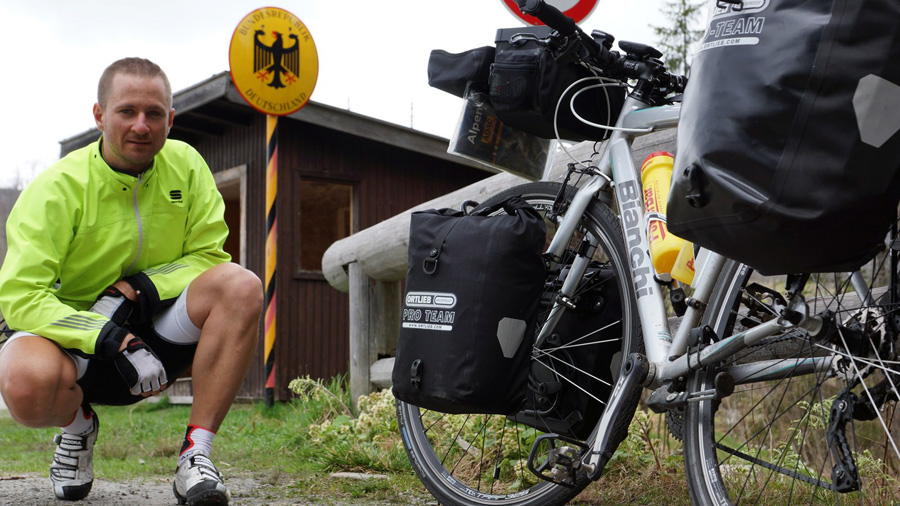 Cycling on my own
From Passau I continued on my own. I have there one rest day. Students let me sleep at their place there. I went by bike thru south Germany. There was very rainy and cold weather. At all not good for cycling. But I had to move forward. First sleeping outside was fine. Tent stands for two days in hard rain. While there was no rain I can enjoy some great views on the shore of Chiemsee Lakes.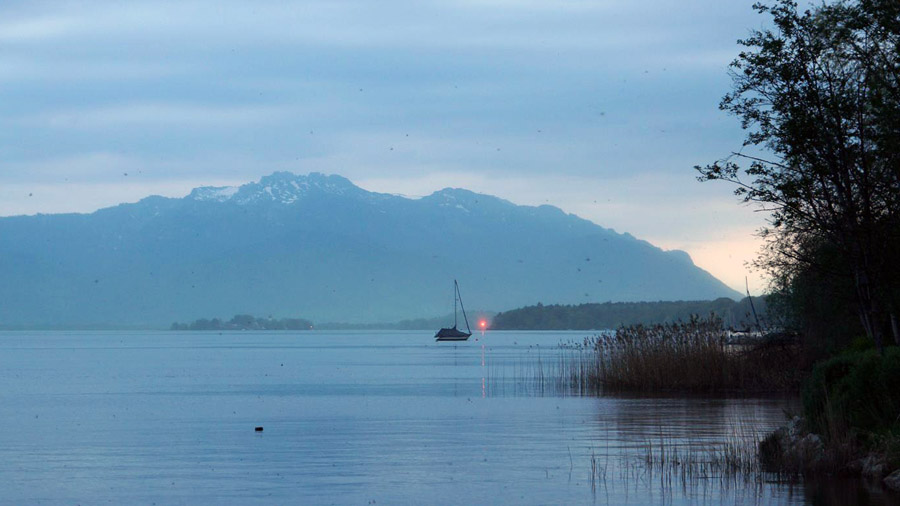 I've met some people that's helps me on the road. It was really important help in this rainy weather I had in May. You can stay out for few days in rain, but there's always a thin line between being sick or not. I was using to find hosts during my travels Couchsurfing or Warmshowers networks. And I think it is working pretty fine and you can try it too. I was hosting people via Couchsurfing before I hit a road.
I will spent many hours on this trip just pushing the pedals and listening to the music during the cycling rides. Everyday that is not rest day it is from four to twelve hours on the saddle. That's why I need good rest and good food. But it is not everything.
People are the backbone of the trip and it is great to meet nice people from different coutries. It's great to talk or meet someone even you not know him before. After hard day in the rain or cold weather the warm shower and smile could be the greatest help ever. Without social interaction I am also getting bit living in my inner world. Internet won't help you asa much as you think.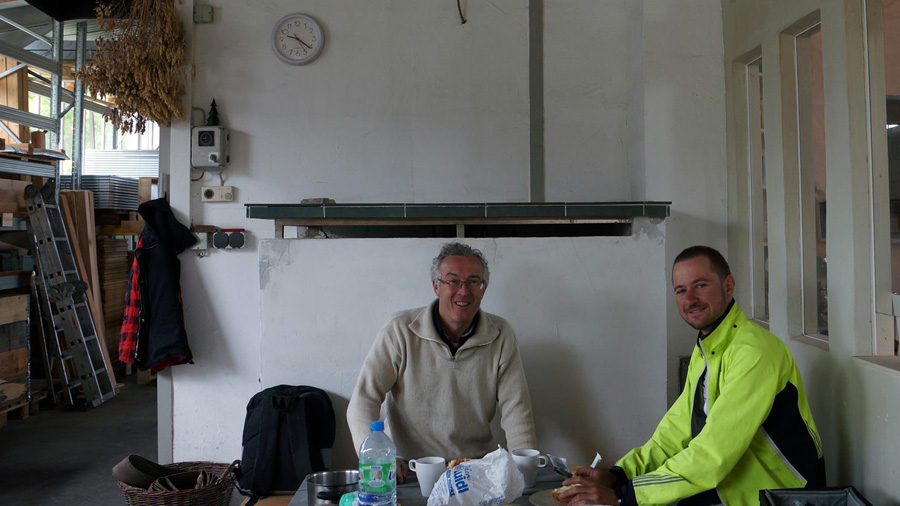 Alps in rainy weather
I have to test everything and that's why I choose to cycle in Europe first. Not only equipment, but also myself. That's why I was turning around the Alps thru some nice cycling roads and mountain passes with lot of altitude meters to climb. I had plan to visit also some interesting places there, but weather was the worst I've ever cycle in. It was not much about joy, but more about surviving.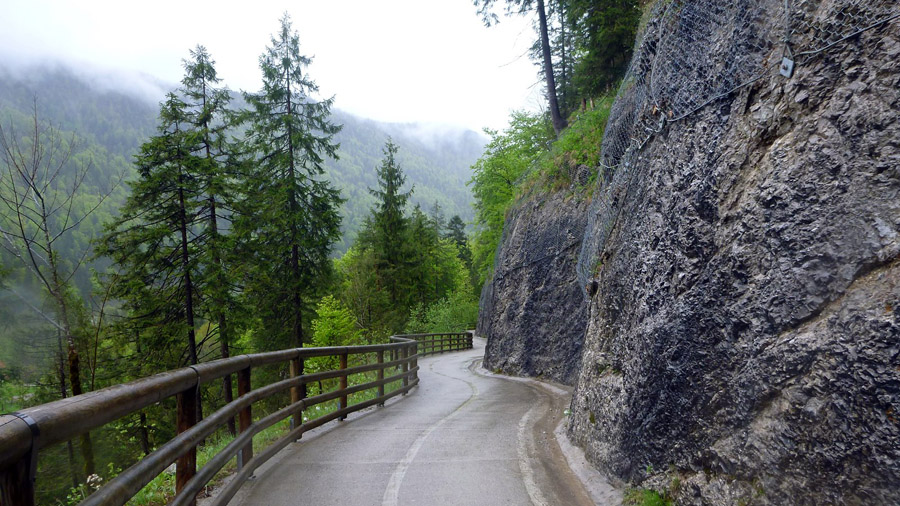 Temperatures from 0 to 15 degrees of Celsia. Highest peak was mountain pass San Bernandino in Switzerland. I early freeze there when I was repairing my break in 2000 m over the sea with snow everywhere. Cycling in rain and cold is not good at all. It was a good experience and I was happy that I survived.
Really big thanks to host I found via Warmshowers. She send me message during the ride and I was saved by this angel from Rovedero. I was really tired and I cannot much speak or do anything after 7 hour ride in such a conditions. I just eat pasta and slept for 16 hours. In morning I was sick, but I had to continue on my way to Italy. You can check some more photos in album from cycling in Alps.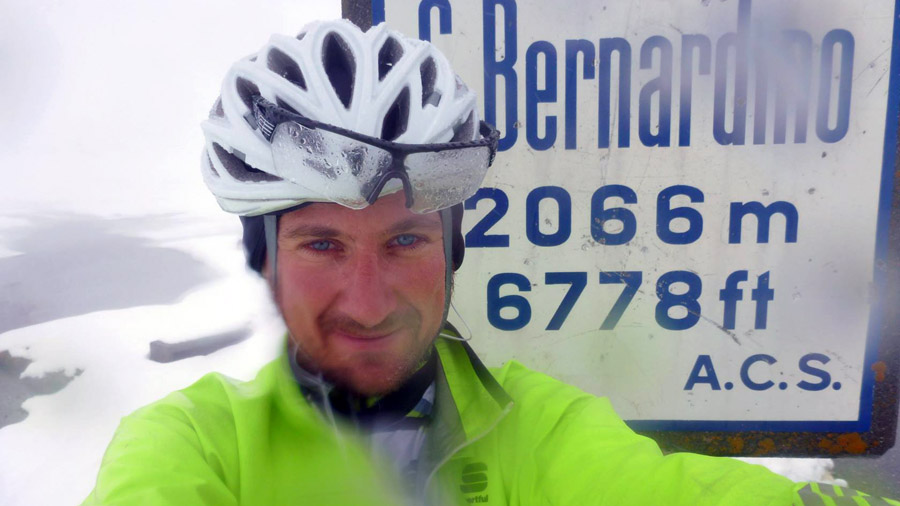 I've went from Germany to Austria, Switzerland, Lienchtenstein, Italy and back to Austria. I saw many nice lakes, enjoyed very nice cycling roads near river. In Austria, Switzerland, Germany there is a lot fo cycling roads and I can really enjoy the ride. I've met some people who helps me in this bad weather. In Switzerland I took one day of rest in Chur. Thanks Flurina for hosting me! It was a nice town and I had best great company.
After the crossing of San Bernandino mountain pass I've got some nice days in northern parts of Italy.  I visited there Bergamo, Verona, Lago di Garda and from there I went with my bike to Dolomites. Wineyards, villages in mountains and nice green valleys. The great places with stunning views that are must to visit.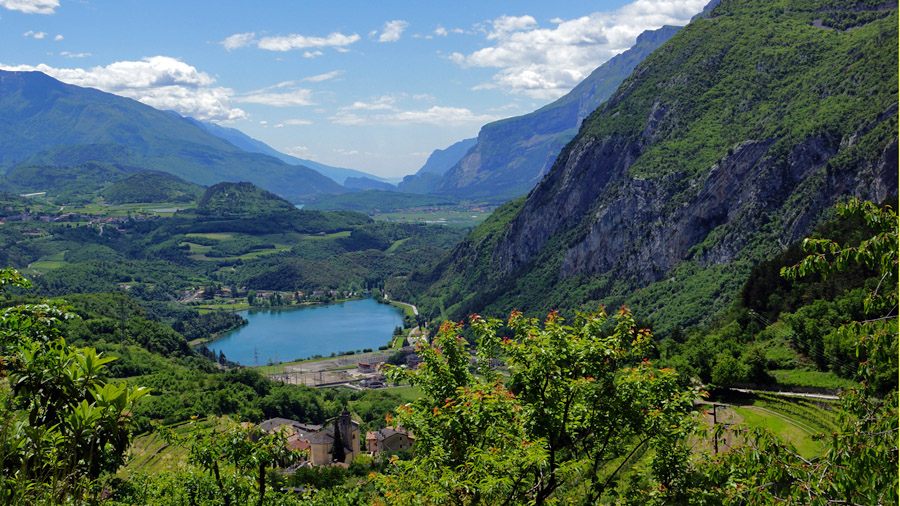 I was lucky again and met nice couple in Verona, that helped me there to get around. Invited me for a great dinner and open their warm hearts. I did little exploration around this historical city by walk and also by bike. I love these Italian cities and also food. The photos from this of of the trip you can find in my photo album on Facebook profile of World Bike Travel.
From Dolomites I was heading back to Austria. Snow there changed my plan. Cycling in the cold weather was not easy also here. Got a strong headwind that slows me that time. I had to overtake the whole valley and cycle different way then I was planning to go. Joined for one day route of cycling race Giro d' Italia and my friends from Slovakia helped me with place to stay. Days were cold and I was wearing my winter stuff and it was May!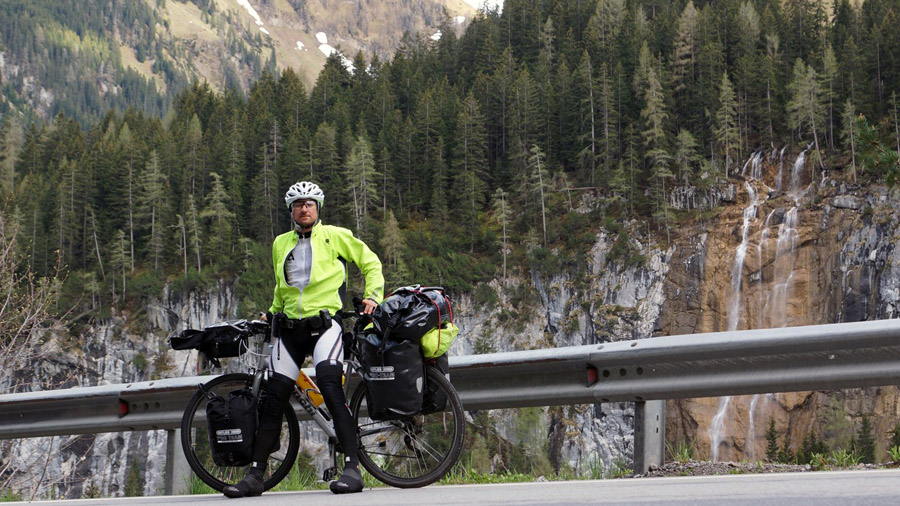 I climbed last uphil and Austria welcomed me by sunny and hot weather. There was quite fast downhill and I can enjoy beauty of Austrian countryside. Clean, green and very traditional. I joined cycling road near river and get lost few times. It doesn't matter you can have a nice cycling experience also by cycling on the roads in here.
Drivers are really nice to cyclists. You can really enjoy the ride with full focus on landscapes and road. By the cycling road near river Drau I cycled way to Graz. Near some nice lakes I get under last big mountains before the destination. Last days I had a rain, but in Graz I took few days rest.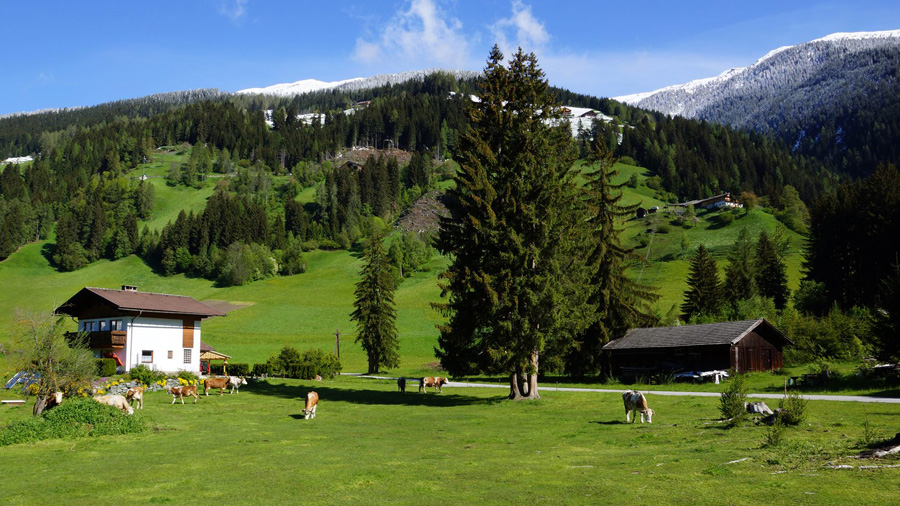 In Graz I was meeting Heni after months and I mmissed her so much. We spent there some time resting (I really need it that time for resting my body) and did 2 day hike to the mountains around. We got really nice hosts that helped us during few rainy days. This rain and cold is not good for my health and I felt sick.
Show must go on
From Graz I did cycling thru Austria, Slovenia, Crotia, Bosna and Hercegovina to Croatia near the Adriatic sea. I had many great places for sleep and I've met a lot of nice people that helped me on the road. In Slovenia I was just few days.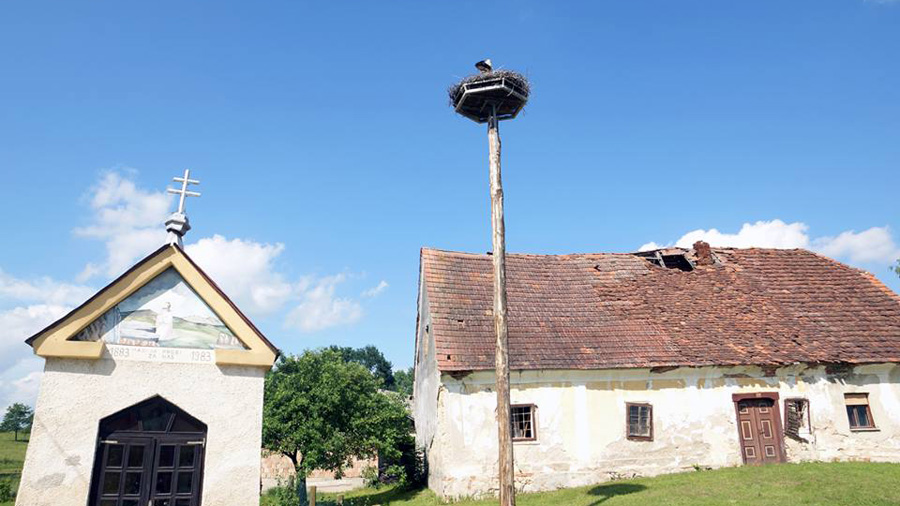 The first time on this trip I had to push a bicycle for 100 m. Hit a rock in 24% climb and cannot start pedaling again. It was the first time on this trip I was pushing and I am not sure last time. The bike is really heavy and it is going really slowly in uphills (not like race bike or mountain bike).
Got some nice people in Croatia (but some of them want party hard after long cycling ride!) and also some problems due to flag of Croatia in Serbia. River Una, river Drau and some nice mountains on Croatia and Bosna Hercegovina border. It was for a long time a road without cars and people. It was just me, mountains, sun and wind. I cycled across high mountains to Adriatic sea.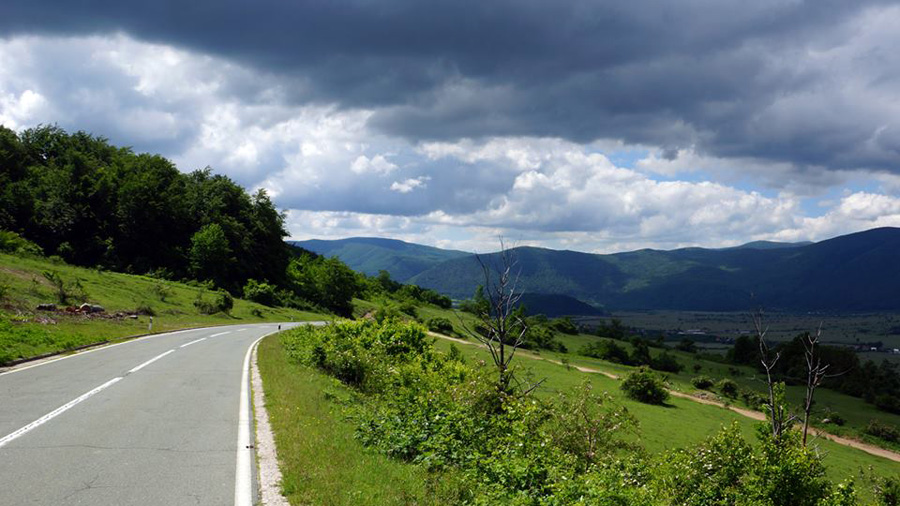 The country changed from green to dry. I find really cool area on border zone of Bosna and Croatia without people (I think after the war) and it was pretty cool cycling there. While I was crossing border it was like end of the world. I've got some problems with my default bike wheel and had to change to new one. Bought one in Zadar, but it was quite difficult to find one in Croatia. After camping and cycling in inland and mountains I moved to coast and was fueled by different local meals all way down south.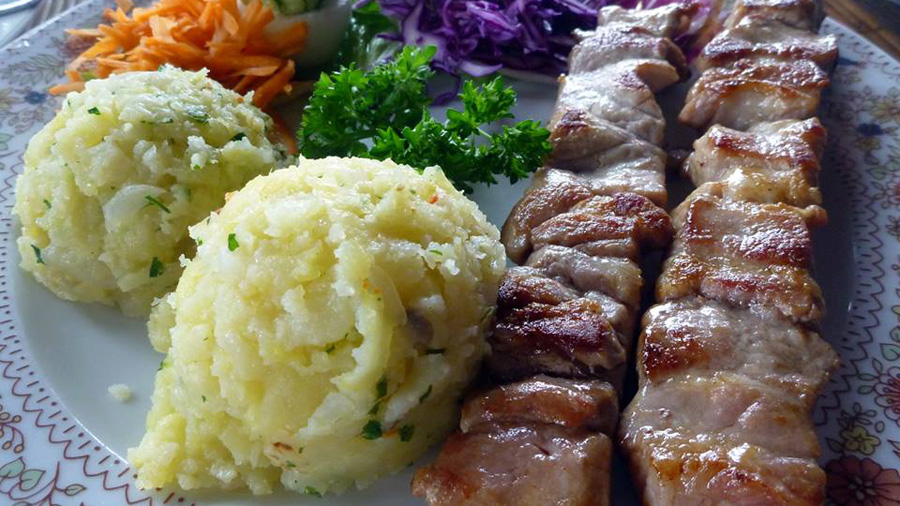 Finally arrive on the coast.  I was enjoying few days of being near the sea breathing fresh sea air. The cycling on the coast is not easy, there is lot of cycling up to short hills. The road was quite busy and met few fellow cyclist in different direction. Falling to sleep with sound of waves, cliffs, beaches and bays. Old historical towns with pleasant weather and finally some rest after the long time. You guys can also check some photos of how I get from Bosna to Croatia by bike.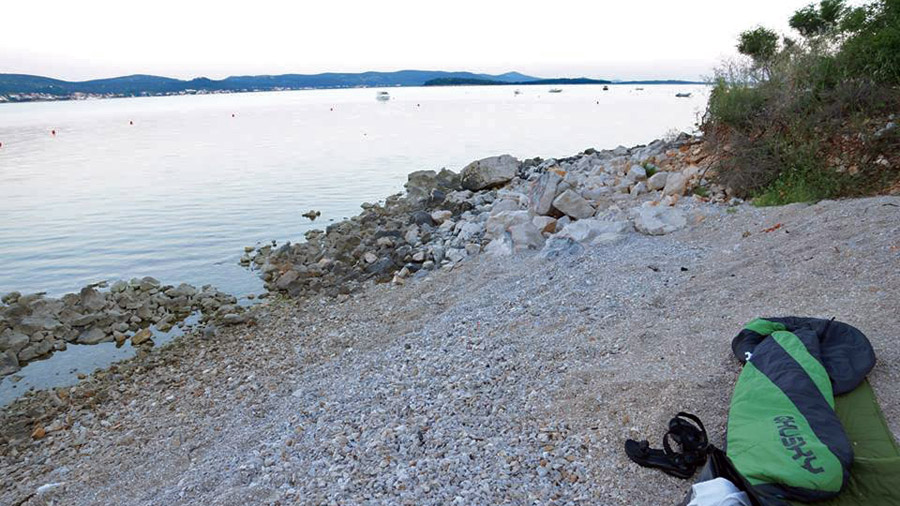 This Balkan is always little bit a cycling adventure. The biggest thing I like calm places and nice mountains. Sometimes you can find here also crazy people (if you are unlucky enough) that are bit annoying. One guy from Serbia want to beat me coz of flag of Croatia.
I still not get it. Why people are so stupid and want attacks or kill other for such a stupid reasons as nationalism, religion and other fictive "isms". That leads nowhere and limit our's freedom and making our quality of living worse.